No, not that kind of girls gone wild.
I'm talking about the kind of "wild" girls can get when their Local Yarn Store has a going out of business sale.




Now, it wasn't all girls. I realize that boys knit. I even live with a boy that knits. I love it when boys knit. But I only saw two males at this shin-dig, and neither of them were goin' wild. One dude was a non-knitting (I asked) teenager forced into holding his mom's place in line. The other guy was the bouncer strategically placed at the exit. I wish like hell I would've thought to snap a picture of him. He was the buff muscle cuddly bear type, and he was very calmly smiling back at cranky knitters who looked like rabid dogs. I've never seen him working there as staff, so I assume he was brought in for the day to guard the door and check bags as you exited. Surprisingly, however, when a shopper in his vicinity was pondering how many skeins she would need to complete knee high socks, he had no problem reading the label on the skein and then suggesting that she grab another. (edited to add: I've been informed that the "bouncer" is Darius, is a knitter, and has been an employee. Thanks, Merrily!)
Okay. SO.
I think the closing was announced Friday of last week. The sale began today at 10am.
I did not go to shop. This girl has no dinero. But I wouldn't have missed this event for the world, so my excuse for being there was to take pictures for the blog. In my mind, I envisioned this fantasy photo shoot involving a stampede of crazed and grabby shoppers…kind of like a Macy's White Sale or something.

I drove up right after dropping MyFK off at camp maybe around 9:20 or so. There was one lady waiting in her car, and a friend from my SnB group was sitting on a bench out front working on a sweater. No throngs of people. No photo shoot for me.

Wrong. Silly me. Look again…




That's at about 9:40. And most of these folks were holding empty shopping bags.

Here we are again at about 10:02.



I already see panic on some faces.

And here's the shot I went in for...people stuffing fistfuls Colinette into baskets like mad.


Skein Lane is open for business until (I think) early September, or I guess until all that is left is crumbs. This is the END OF AN ERA for East Bay yarn shops. Skein Lane has been around for a looooong time, long before the latest "boom."

Now, I'll be the first to admit, being a yarn slut, I am polyamorous when it comes to yarn shops. I go where I need to go to get my needs met. But this is the store where I spend most of my time (and $$). This is also the store that happens to be closest to home. When I took up the needles again a couple of years ago, I started attending the weekly "Knitting Workshops," where you can bring in whatever it is you are working on and get help, learn new techniques, and meet some really fantastic people. And THAT is what I am going to miss the most. The people I knit with, the people that worked there, and especially Carolyn, the store owner. She has always been such a delight, and I have learned so much from her...not just about knitting. There were so many familiar faces there this morning, I'm guessing Carolyn felt it was just as much a party as a sale. I know I felt that way!

Yarn shopping is getting interesting here in the SF East Bay, I think. I've also heard through the rumor mill last week that Janis of Yarn! is wanting to sell her business. Kind of makes you have to wonder what is going on, eh?

-----------------------------
So, I sort of got dressed up to go to this thing (but hey, I'm easy--I can put on lipstick and mascara and call it dress-up). I mean I wouldn't exactly call a t-shirt that says "I Bite" on it, and Converse high tops being dressed up. No. To dress that up, one would need to accessorize.



New scarf. In my desire to have people not stare first at the place where my leg is missing (before seeing some of the other parts of me), I've been thinking about ways to bring the attention up towards my face. I know how to do that by highlighting "the girls", creating a funky hair-do, or donning a hat, but I'm tinkering with new methods. My current twist is to put a little more color up top.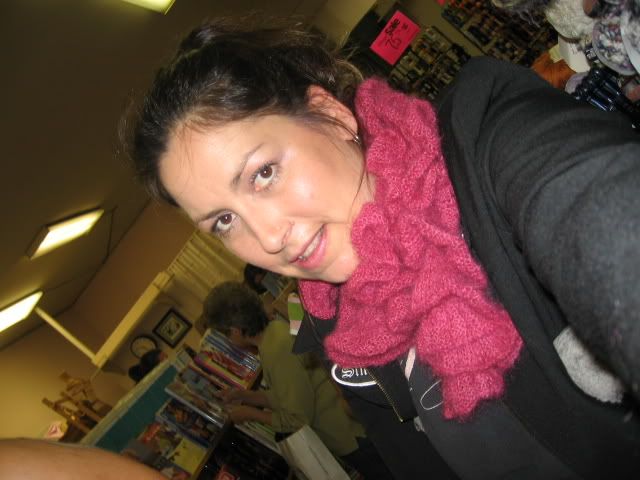 I finished the scarf late last night (way late--2am--and I wonder why I have a headache now). I got a bit worried when I put it on. It most definitely brings the attention up to my face…but I thought it sort of made me look like Bozo The Clown.

I've gotten lots of compliments on it today though, so I guess it's not so bad.
It was knit in Rowan Kidsilk Haze, shade "583-Blushing." The pattern is "Swirl Scarf" by ShiBui, but I can't seem to find a solid link to the actual pattern for you. Seriously though…this pattern isn't rocket science. It's just one big ruffle. That's it.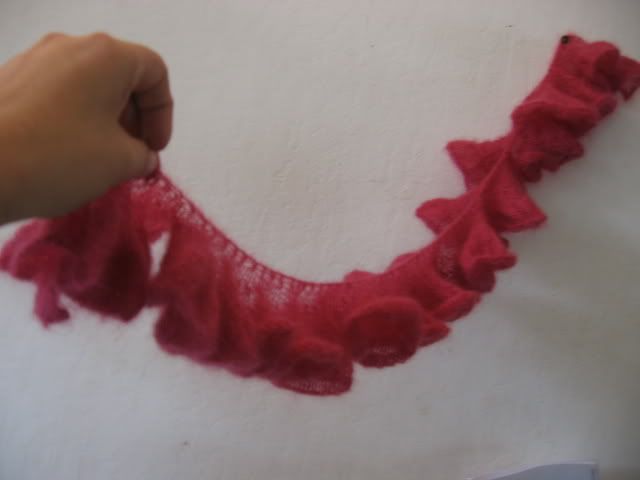 It took just over 1 skein. One and a half rows over 1 skein, which completely irks me, but I'm going to use what's left over to make a pair of matching Mrs.Beetons.

If I were to knit this scarf again again, and I might, I'd start out with more stitches and omit one of the rounds of increases, creating a wee-bit less dense of a ruffle. Starting out with more stitches would also cause the scarf to be longer. This scarf turned out so short along the cast on edge that it doesn't really stay on when I toss it over the shoulder, and I don't like what happens with the ruffles when the scarf is tied. I used one of Jodi's cute-ass badges to secure it, and it looked great :-)

The fancy lace socks are still on the needles and coming along slowly because complexity is stressing me out right now. I just cast on for Cleo and with any luck will finish her in time to wear in Hawaii.