Not me. I aint got it. Kerry's got it.
Kerry read my earlier plight about not wanting to knit StrangeLittleMama's gorgeous gifted sock yarn into something girlie frou-frou. Remember the ruffles?






It IS very pretty, I know...but I wanted something with some bite. Something with some sharp angles and a punk-rock feel to it. Kerry recommended Jaywalkers.
I'd seen the pattern before, and I'd even seen a pair knit up, but I thought I remembered reports that the fabric didn't have much stretch, so I bypassed the pattern. I was thinking the socks would get baggy and droopy when I wore them on the leg with the prosthesis.
Boy, what a mistake to wait so long before trying.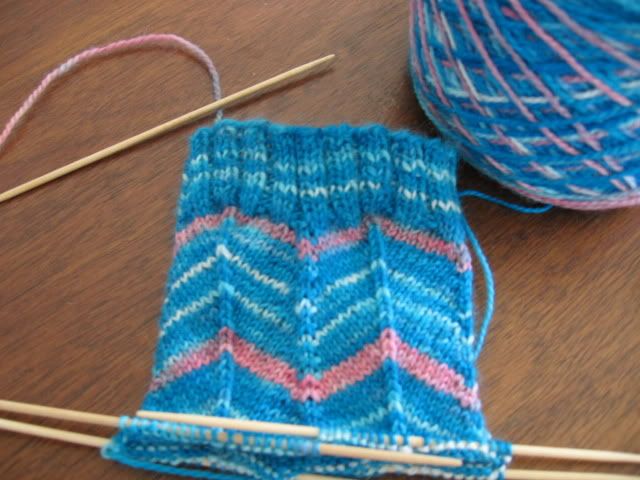 Now THAT'S what I'm talkin'bout!!
EXACTLY what I was looking for, and it seems to have plenty of stretch. I'm loving it.
Thanks Kerry!!
-----------------

I also started TheMIG's socks in the olive Trekking XXL. I gave up on the tubular cast-on, though. Well, I wouldn't say that I totally gave up. I was able to do the tubular cast-on (in the round, and into a 2x2 rib) while practicing with larger yarn and size US#6 needles. But as soon as I tried to do it with sock yarn and US#1's (ie: thread with toothpicks), I caved in.

I'm sure that attempting the actual tubular cast-on for the sock at 11pm when I was so tired I couldn't even see straight probably didn't really help matters much. But whatever.

Here it is. Regular ol' vanilla sock. And I'm loving the yarn.




----------------

I have been a very busy girl this week.
I'd been taking a big dump on the pity-pot, when along came anxiety and depression to hand me the toilet paper. Once I saw them coming my way, I figured I'd better shit-or-get-off-the-pot, because nothing good comes when those two are around together.
So I got busy (but only while still crying over the poopy stuff).
This week I:

* Wrote the letter to Walter Reed Military Hospital to start the wheels turning for "Single Socks for Soldiers" (thanks Mouse for the name). If they accept, this will be a program where knitters can donate their single socks to amputee vets. Full pairs will be welcome as some amputees like to play dress up with their fake legs, and I'm willing to collect gloves and mittens, too.

* I rejoined LITA (Love Is The Answer), and organization that matches volunteers up with a friend who is in a convelescent hospital that needs a visitor. It's a one-on-one relationship, and you visit weekly. I had a friend back in my early 20's until she passed. I'm meeting with the director next week to get a new buddy.

* I checked out my options with the disability department to see if I am eligible for funding to use towards vocational rehabiliation. I am pouring over the paperwork whilst happily knitting socks. It looks promising.

* I went and applied for a card from the library a few cities over...one much larger than the what's available in my neighborhood. I checked out books on cd to listen to while knitting, some new middle eastern music that I might use when I teach bellydance class or perform, and some knitting books, including A History of Handknitting which I have been wanting to flip through for a very long time.
-----------------------

My one year blog-iversary is Monday.
Stay tuned. I'm cooking up something special ;-)