Gains & Losses
~~~~~~~~~~~~~~~~~~~~

Gain #1--Goodies In The Mail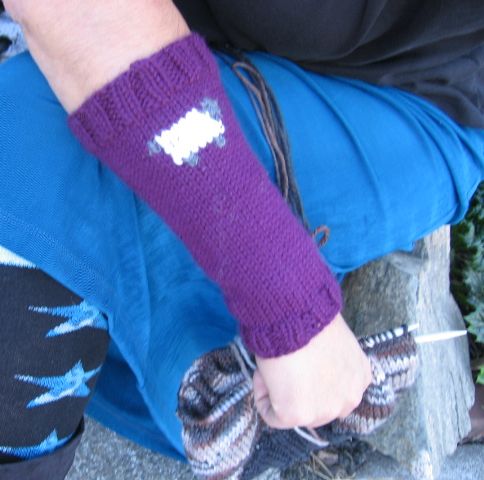 Ya' know...at some point here, I kvetched about my arm being cold with all the metal bits in it, and I was also complaining that my one and only pair of armwarmers was getting kind of worn out, and that they were gauntlet style, with fabric across the palms of my hands and I couldn't knit socks while wearing them because the dpns kept getting stuck in the gloves.

And lookie who took note of all of that complainin' and just fixed that right up for me?!! TheBon!! I just looove them! They are so damn cute. My favorite part is the matching little sheepsies *big fat grin*.
Leave it to a seasoned goodie swappin' kind of person to toss in little bonuses, too.




Some of her handspun, (I covet every single thing I've ever seen of hers, and this yarn is so yummy, and squishy and beautiful and it has beads spun onto it), some really fantastic tea (I think I'll be writing more about that soon...I'm in love with it and must have more), a finger puppet for MyFK, and one very knitterly card. It was like getting a secret pal gift, and it aint even a swap! I am consistently blown away by the generosity of fiber freaks. Just one very cool and thoughtful thing to do...and so very cool considerring we haven't even "met". Yet. It sounds like she might be cruising down in February for Stitches West. Woohoo!
---------------------

Gain #2--A new hat (in the style of Brownielocks and the 3 Attempts)

Oohhhh my, this hat is toooooo big...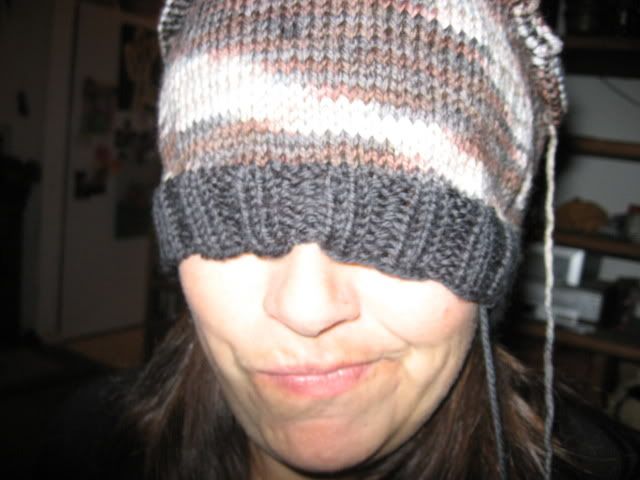 And this hat is toooooo small...




But THIS hat is juuuuuust riiiiiiiight!

Beret
Yarn: Lorna's Laces Shepherd Worsted, Mineshaft+ Charcoal (from stash, leftovers from the Baby Surprise Jacket)
Needles: Denise US#8 circs, and Brittany US#8 dpns
Pattern: Last Minute "Purled" Beret by Wendy Bernard, found at TheGarterBelt
Modifications: Used CC for the ribbing and the "topper". The ribbing cast-on with 72 stistchas (as if for a size small), but knit to 1-1/2". On the first round with MC, I increased the stitch count to 80 (as if for Med/Large), then followed the pattern for the Med/Large from there on out.
Notes: used steam method for blocking.
Started: 10/24/06
Frogged: 10/25/06
Started: 10/25/06
Frogged: 10/26/06
Started: 10/27/06
Finished: 10/28/06
-----------------------

Gain #3--A New Wheelchair

TheMIG picked up a wheelchair for me this weekend!
I'm soooo thrilled to have it here, but I'm not quite in love with it yet. We're in the gangly fumbling stage. Thye wheels on this one are much smaller that that of it's predecessor, which means every time I reach down to go for spin or to lock the brakes, it looks like I'm waving my hands in the air like some magician waiting for the chair to move itself. The major bonus though, is that with the wheels being smaller, I am actually able to get into tighter spaces with it without banging into the walls...yay! In about a week or two, we'll be used to each other, and all will be right in the world, even better than before. No monthly co-pays.
---------------

Gain #3--Hallowiggin' (again).




This Hallowig was for Robbin. She is a patient at the convalescent hospital that I've been going to for several weeks now to visit my LITA match, James (more on James during NaBloPoMo). I really dig Robbin. We've had some great chats. She's about my age, and she has MS. We are both are really into music. Robbin just adores Halloween, she has her room is fully decorated, and has been wearing various Halloween shirts for a few weeks now gearing up. Last week I showed her my Hallowig, and she asked if I could make her one so she could get dolled up for tomorrow. Happy to olbige :-)



Same exact specs and everything as the first one (except!!... the method. I don't have two circs in size 8, so I on the first one, when I joined to go intot he round, I use dpngs. My dpns were a bit short to carry all the stitches, which drove me nuts last time...stuff falling off everywhichway. So this time, after I cast on for the bangs and joined in the round, I stayed round on a single circ for as long as possible before switching to the dpns. Much better).
------------------------

Gain #4--I Gained Many More Questions (but I have no answers--so maybe this is more like a loss instead of a gain?)

No answers to the question of why I am using my being an amputee as a primary identifier. Only more questions. Hate that. More knitting, more thinking. More knitting, more thinking.
-------------------------

Loss #1--And Only One. But a big one.

I am no longer a company member of Dandelion Dancetheater. I have been having issues for quite some time over the use of videotapes that have been made of performances. My issues and concerns are many, and are very emotionally charged. I'm not ready to sort them out here, nor am I certain it is appropriate for me to do so.
The director and I have tried talking this out on various occasions, and it's probably safe to say that we're not really hearing each other. From my perspective, if I really am hearing what I am pretty darn sure I am hearing, it is really not going to work for me going forward. We left it as that we might talk again down the road and see if things have shifted.
The resulting split reminds me of how it how it feels when you have an amicable break-up in a romantic relationship...you know...the, "I really care about you, but this just isn't working out..." and the, "I hope I can still have you in my life as a friend..." stuff.

...and then there is the losing half your friends in the split-up part.
Except in this case, I lose them all. They were all "his friends" in the first place.

I'm quite upset about it (understatement).
I know I can see the friends I've made there outside of working together, but I will really really miss dancing with them.

There are lots of other things I will miss for sure. Too many and too sad for me to list, but losing connection with the people I bonded with so deeply is a very sad thing.