I'm starting with the whining.
Because it's my blog. And I can.

Waaahhhhh....I am sick!!! I started feeling "the tickle" on Friday...I layed low all weekend with the Airborne and Zicam trying to keep one step ahead of it...I passed on a golden opportunity to hang out with Donna & Son...I skipped my pilates class...I missed another meeting of the local spinning guild (that's 3 now)...I stayed home and didn't get a whole lot of anything done the whole damn weekend...not even knitting...because all I could manage was trancing out playing WeffRiddles (thanx buttloads, Cara) and TheRoomz with TheMIG and MyFk....oh and three nights in a row now, MyFk has woken me up around 4am....and I'm totally exhausted...and I'm very cranky...and today I am now totally full blown sick...and all I wanted for dinner was some damn toast and I practically just burnt the damn house down because I'm so tired that I forgot I had put bread in the toaster and instead of toast I now have briquettes and now my house stinks so bad I can even smell it through my stuffy nose...and...and...and...

Ok. I'll shut up now.
Onto better things!:




That's yesterday's haul.
(looks like I'll be eating PB+J for awhile to make up for it)

A Katie-A-Go-Go for plying on the run and storing in small places, a loooovely Bosworth (midi) spindle, and two balls o'roving from Three Bags Full. The blue-ish one is "Peacock Tales" (merino, tussah silk, silk noil), and the black-ish one is "Butterfly Blend" (merino, tencel, silk noil)...both about 120g each. Morgaine suggested these fibers because she thought they would be a good match for my level of (un)experience.

Speaking of Morgaine of Carolina Homespun, is she totally cool, or what??!! I was a little nervous at first, but it didn't take long before she had me totally cracking up. I made some pretty effed-up looking "yarn", both on the spindle and on the wheel, and she just supportively said, "Hey. This is GOOD yarn! It might not be exactly what you had intended, but it is still good yarn."

When I tried to get going on the spinnning wheel and was fumbling around not being able to do everything at the same time (at this point treadling and simuntaneously drafting makes me feel like I'd be failing the patting my head and rubbing my stomach game), Morgaine chuckled and assured me that if I can bellydance on one leg, well by golly, I shall be able to spin.

We unearthed a few body mechanic issues that I will need to think about once I get my own wheel. Yesterday Morgaine put me on a single treadle (like I'd ever need a double), but of course, treadles are typically set up on the right of the wheel.
(Hint: I don't have a right leg. I have a left leg. )
So when I spin, I've either got my left leg reaching across to my right side, throwing me out of alignment, and causing leg cramps...or I move the wheel over and position the treadle in front of me, but then have the working bits of the wheel (must I add "orifice" to my vocabulary?? gah!) off on my left side, but when I do that, I'm prone to twisting my upper body or overworking my arms.

Additionally, I was sitting on one of her backless, three legged spinning stools, and Morgaine observed that when I am treadling with my left foot, there is no right foot to help me balance (I was working sans prosthesis), so I expend some uppper body energy maintaining my balance. Oh, and I also fell off the stool when I was getting up. Ha! Graceful. Like a gazelle.
I'm sure I will figure out what works for me, but I can see that I will need to do some tinkering.
Near the end I was feeling a little bit over saturated by all of the information, but all in all, I had a seriously great time over there. It sure was special to get the private shopping time with her. I can't imagine what the chaos must look like at her booth during a fiber convention.

I've been messing with the spindle off and on all day (not with the new fiber, but with some stuff I picked up a few months ago), and it's just fun fun fun.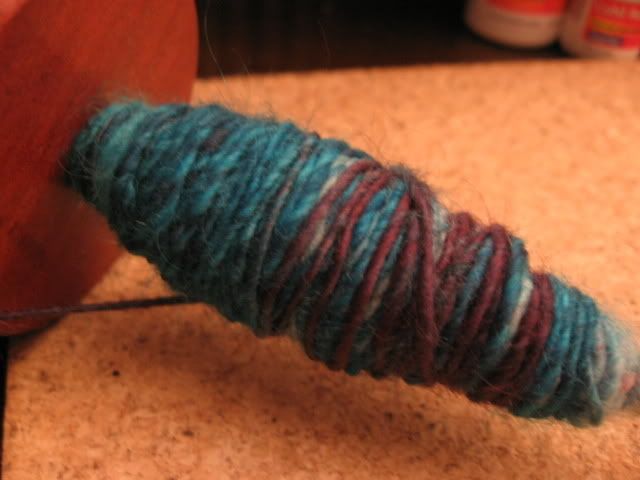 It would seem I've been bitten.
Now let's just hope I can someday knit with what I make.