Day (or three) late, dollar short...but finally!
The post about last Wednesday's Stitch-n-Bitch.

A few of our regular bunch had this idea to do a Hallowig KnitALong, with a photo shoot on the 25th. Only three of us brought finished do's, but it sounds like there could be at least 2-3 more finished up by next week, so you might being seeing one more round of photos.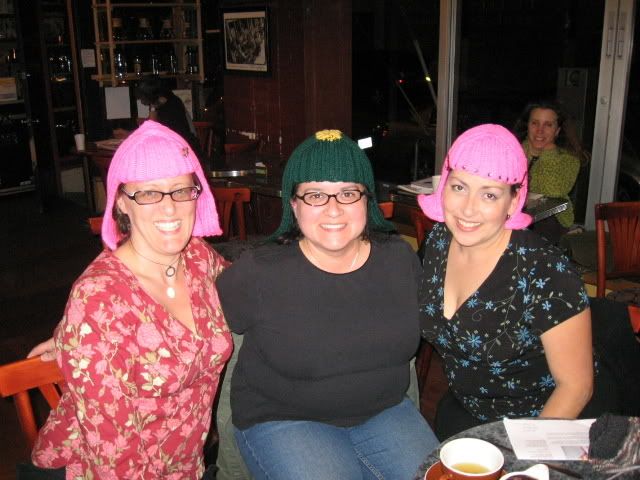 (L to R: Beanmama, Donna, me--not sure how well it translates in the photos, but Donna's Hallowig has blonde "roots" heheeee!)

This was Donna's first SnB, and if I recall (it's late and I'm running on fumes) I think it was her first social knit gathering ever. Damn cool of her to show up at her first event donning the item we were using as a KAL. Yay! I'm pretty sure we were all on good behavior, but someone dusted her with wool dander (probably me), and she's allergic. Now that we know about the wool, next time we can plan for her to be flanked by people knitting cotton warshrags or something.
It was great to meet Donna because it was my first time meeting another knit blogger! Donna found my blog right after the Yarn Harlot's visit to California. She and I were both in attendance at the book signing, but didn't meet in person. We've been reading each other's blogs, and have a exchanged a few emails since then. She doesn't live too too far away, and she worked it out so that she could meet up at SnB. Hopefully she can come again sometime.
Here's Donna and I in our kittyhats, too.



-----------------

On another Hallowig note, I brought the silly-little-ditty to bellydance class last night for Circle Dancing. It is a night where we get a bit more dressed up than our regular classes and do some improv performing for and with each other.
With bellydancers and their garb, it's often about all things sparkly, swishy, and immodest. The wig got passed around and I think every one of us tried it on. It was hightly entertaining and amazing to see how different it looked on each of us, not to mention seeing how the wig looked paired with bellydance costumes. Lots of giggles. Wish like hell I'd have taken photos.
-----------------



Hallowig


Yarn:
Red Heart Kids, 100% ACKrylic
Needles:
US#8 Denise, and Brittany US#8 dpns
Pattern:
found
here
at
Knitty
, designed by
Megan Reardon
Modifications:
After casting-on, I started with about 1-1/2" of stockinette to create the little rolled "flip". I made the entire wig a little shorter in the length (my face is too oval for a long bob), and I also went a little shorter in the bangs (so I wouldn't lose my eyebrows). I tossed in a couple of barettes and added some little snap-on sparkly-hair-do-dads I found buried in my hairclip bin.
Started:
Oct 16, 2006
Finished:
Oct 18, 2006
Notes:
With NO disrespect at all to the designer (because I believe this to be
quite
the creative and clever little pattern), I do believe this may in fact be the most ridiculous thing I will ever knit.
Of course, I said that when I knit an icecream cozy...so who knows.