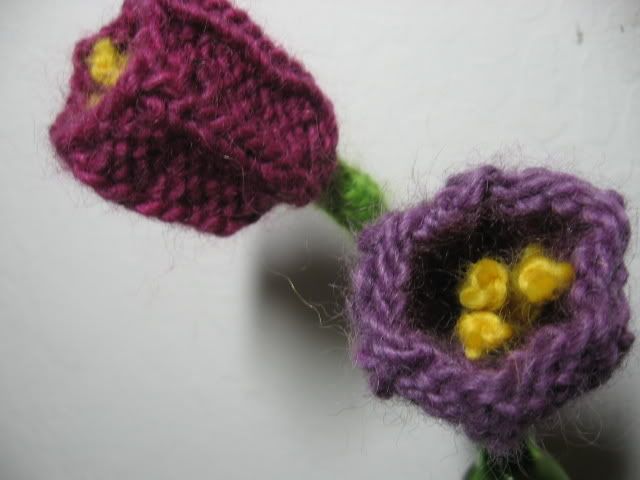 Spring Flowers in the Winter




Yarn: Lamb's Pride Worsted, M-162 Mulberry, M-173 Wild Violet, M-120 Limeade, m-155 Lemon Drop
Needles: Clover Bamboo US#8's/5.0mm, dpns
Pattern: Spring Flowers, by SaartjeKnits
Modifications: larger versions of the original pattern
Finished Measurements: 13" and 11"
Started & Finished: Flower#1 11/24/06, #2 11/26/06
Notes:

Alrighty. It's officially a phase.
A period.
Whatever.
Here we are, 3 mini-pumpkins, 5 catnip mice, 2 felted cat-toys, 1 new stuffed toy friend, 1 gnome, 2 flowers, a few warshrags and hallowigs later... and I think I finally understand what's going on with me and my knitting over here.

Yes, knitting these little ditties has something to do with immediate gratification and creating things that are adorably non-functional; things just meant to bring smiles, at a time when I could use a few extra.

But I think this whole nonsense knitting trip is actually a big lesson in my creativity, primarily about my stash and how it either supports or hinders my creativity.

Sometimes I hear or read about the knitters who buy a "sweater's worth" of yarn they enjoy, with no pattern in mind. They are just waiting for the perfect idea to emerge to go with it. I am soooo totally not that kind of yarn-ho. See, I need to be able to justify my purchases (with most items, not just yarn). If I'm going to spend money on something, I need to be able to prove that it will be useful. In terms of buying yarn, that has translated into the edict:
Thou shalt only buy yarn if thou has a dedicated project in mind for it.

Now, I don't think this keeps me from buying less yarn than the person who buys a whole bag of yarn for a to-be-determined project. But what it does do, is this (by comparison):

The Bag-For-A-Sweater person goes home, puts their stash in a basket, admires it, occasionally fondles it , and sees inspiration waiting to happen. This person has a basket full of possibilities.
I come home, put my stash in a basket, admire it and fondle it, but instead of inspiration flowing, I see all the things I intend to do that I will never be able to get done. I see a basket of failure, covered with a cloud of fear for lack of time.

And I'm ready to start looking at my stash and my craft differently. What's kicked me into gear is knitting silly little useless things (which most certainly can no longer be deemed useless if they are making my brain explode this way).

It started with making little things made out of left-sock yarns: cat toys, watch bands. See, those were left-overs from other projects, and not dedicated to something, so I could just see a pattern, get a bug up my arse to whip it up quick, and blammo...done.

But it was the Lamb's Pride Worsted that really did it. I bought several colors to make some Jess Hutch toys. Being that I have no faith in my own color sensibilities, I copied her colors exactly. And was left with a ton of leftovers, and a big love for this yarn. I just adore knitting with it. So I went out and bought a few more colors with no specific project in mind (*gasp!*) to add to my collection. Just colors that I like. I thought I'd try making a few more of her toys, but get brave about my own colors.

(this whole discussion strikes me as interesting, because I have absolutely no problem whatsoever pulling a dance movement out of my "dance stash" and making my own finished item using that medium)

Anyhow, I've now been tripping through the internet running into patterns for little silly things, and I can just go to my stash o'LambsPride and make them. I know that technically, I'm just using up odd and ends of stash, but really, something big is happening here.




I'm beginning to see my stash as a wide open field of colorful creative possibilites.

I'm still not as far along as trusting my own color choices, nor am I making up my own patterns, but I didn't start choreographing dances for myself right of out the gate, either.
So watch out yarn world. I'm learning.
Ready or not, here I come ;-)