Cathartic Ink told me to go tag myself.
----------------------------------------------

Quirk-
noun 1. a peculiarity of action, behavior, or personality; mannerism (from dictionary.com)

6 of mine:

* If I am feeling poopy, there are a few comfort foods that will straighten me right up. One of these would be a warm bowl of Spaghettios with Meatballs. I know. Gross. Shut up. It somehow makes everything in my world allllllright. Don't spoil it.

* I have a very difficult time walking away from purchasing sets of serveware that are matching, but have some sort of variation. I'd almost categorize it as an obsession. Examples (and I have many):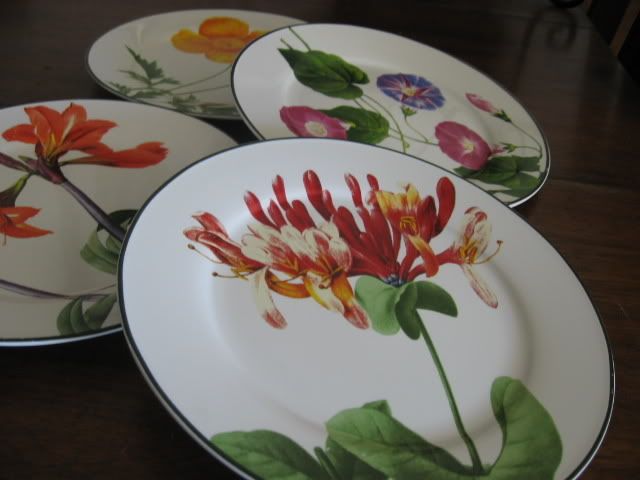 * It would seem I am completely incapbable of taming junk mail clutter. No matter what "organizational strategy" I have tried to employ, stacks form. When the piles of mail begin to topple, they are relocated into bags. I hereby admit to having bags piled in a couple corners of my home. I'd like to just set a match to them, but unfortumately, very important documents are interspersed between sheets of pizza coupons. It's a dilemma. Save me.

* I will carefully wind my yarn into "center-pull" balls...and then when I knit with them, I don't pull from the center, I work from the outside.

* I have a very brown thumb. I have even killed a cactus.

* Unless I'm sleeping with TheMIG (or hostessing the occasional "bad dream" sleep-in with MyFK), the I'm sleeping with BunnyMan.